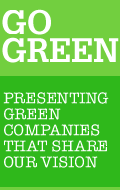 Green Friends
We are proud to work with fellow eco minded businesses that also recognize the earth is our responsibility as a community. Our success as a company is dependent on the healthy relationships we maintain . Check out some of our favorite Green Friends!
•FEED Projects Lauren Bush Lauren: Co-Founder and Chief FEEDer Lauren Bush Lauren is the Co-Founder and Chief FEEDer of FEED Projects, as well as the Chairman of the Board and Co-Founder of the FEED Foundation. Lauren started her work as an Honorary Spokesperson for the World Food Programme (WFP) in 2004, when she helped to launch their Universities Fighting Hunger initiative. Over the past four years Lauren has traveled to many countries with WFP and UNICEF including Guatemala, Cambodia, Lesotho, Sri Lanka, Chad, Tanzania, Rwanda, Kenya, Uganda, and Honduras to learn about the realities of poverty and hunger firsthand. Inspired by her travels, in 2005 she conceptualized and designed the initial FEED 1 bag, which feeds one child in school for one year through WFP, as a way for consumers to give back in a tangible and meaningful way.
Feed Projects http://www.feedprojects.com/feed-shop
•Green America
Green America is a not-for-profit membership organization founded in 1982. Our mission is to harness economic power—the strength of consumers, investors, businesses, and the marketplace—to create a socially just and environmentally sustainable society.
EFP has been a faithful member and service provider of Green America for near 20 years! www.greenamerica.org
LandFill www.brianponto.com/CURRICUCULUM-VITAE
•Green Changes
Creating eco chic apparel and greeting cards for the promotion of a greener tomorrow. Showcasing eco-conscience messaging through the use of whimsical statements and eco imaging on 100% organic and reclaimed materials.
retail-etail-custom printing -fundraising
Team Leader Justine of Green Changes heads up the EFP Custom T division. www.greenchanges.org
•Green Bronx Machine
Green Bronx Machine was born out of the collective belief that we are all Amer-I-CANS! Together we can grow, re-use, resource and recycle our way into new and healthy ways of living.
http://www.facebook.com/green.BX.machine?ref=ts
•Green Drinks NYC Founded in 2002, Green Drinks NYC is the largest environmental networking organization dedicated to unifying the sustainable community in New York. With over 15,000 members, we host monthly events to engage and connect people from a wide range of backgrounds. Lively networking events are held the second Tuesday of each month with 150+ sustainably minded professionals. The events are made simple and many come to meet new friends, schmooze with industry professionals, find employment (or employees!) develop new ideas, discuss issues, solve problems and have moments of serendipity! Join us for the next one! http://www.greendrinksnyc.com/
•The Manhattan Chamber of Commerce
The Manhattan Area Chamber of Commerce is a non-profit, voluntary organization of citizens working together to support the business development of Manhattan and make it a better place to work and live.
www.manhattan.org
•Green City Challenge
Green Changes is a creative, innovative non-profit organization that connects the community with green businesses and non profits. Our commitment is to increase access to sustainable lifestyle solutions, while at the same time building and integrating the green community in NYC.
•Urban Go Green
Our mission is to popularize green and sustainability in urban communities by enabling dramatic growth in the use of environmentally friendly products and services. We are dedicated to greening the culture and inspiring our communities to improve their lives and the health of their environment. We aim to create more balance between people, the planet and profits.
www.Urbangogreen.com
Teva Learning Center
http://tevalearningcenter.org/
NeilswheelsNY
h/www.neilswheelsny.com/
Tekserve
http://www.tekserve.com/
Hazon
http://www.hazon.org
Green Friend logos